CRYSTAL LAKE ROAD MAINTENANCE TAX DISTRICT
Thanks for visiting. This page is under construction.
Suggestions are welcome.
Lakeside Ct. Brush - before road repair - 2020
Brush - after road repair
2020 Lakeside Ct. Reconstruction and paving.
The Next Road Committee Meeting will be scheduled in the Spring.


Email roadcommittee@ourcrystallake.org with questions or suggestions.


Minutes may be found on the Club's "Documents & Business" tab.
The Road Committee

Structure
The Road Committee (RC) is a KY Commonwealth agency, created to collect road maintenance taxes in order to assist the Club to maintain its roads.



The

RC is organizationally independent of the CLC Board of Directors and is ruled by KY Open Meeting, Organizational, Financial and Purchasing rules. Refer, for example, to KRS 179.700-179.000.


The Club's roadways, the things under them like culverts, and traffic signs are within the scope of the RC. It also contracts for snow removal. County roads such as Grange Dr., Crystal Dr. and Hoffman Ln. are maintained by the county and are not within the scope of the RC.

Brush clearing and other issues not related to a specific road project are addressed by the CLC Board.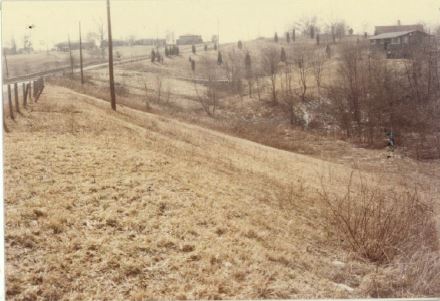 Maintenance Plan
Great strides have been made on the roads over the past decades by the Road Committee. We're finally at a point where the major repairs have been done.



Currently, it can cost "almost" as much to patch a small section of road as it cost to repair an entire road. Because the road life is about 15 years, the Road Committee (RC) is trying to do larger projects and use patch material to extend older road 's life until the entire road can be addressed.




To report potholes, surface failures or other issues, please email roadcommittee@ourcrystallake.org or see the Club's "Contact US" page.
Crystal Lake Club Road Photo Archive
Grange Dr. Spillway before the box-culvert bridge was added.hat easy!
Dam Toe (downhill side) at Grange Dr.
Potholes on Grange Dr.
(source: The Courier Journal)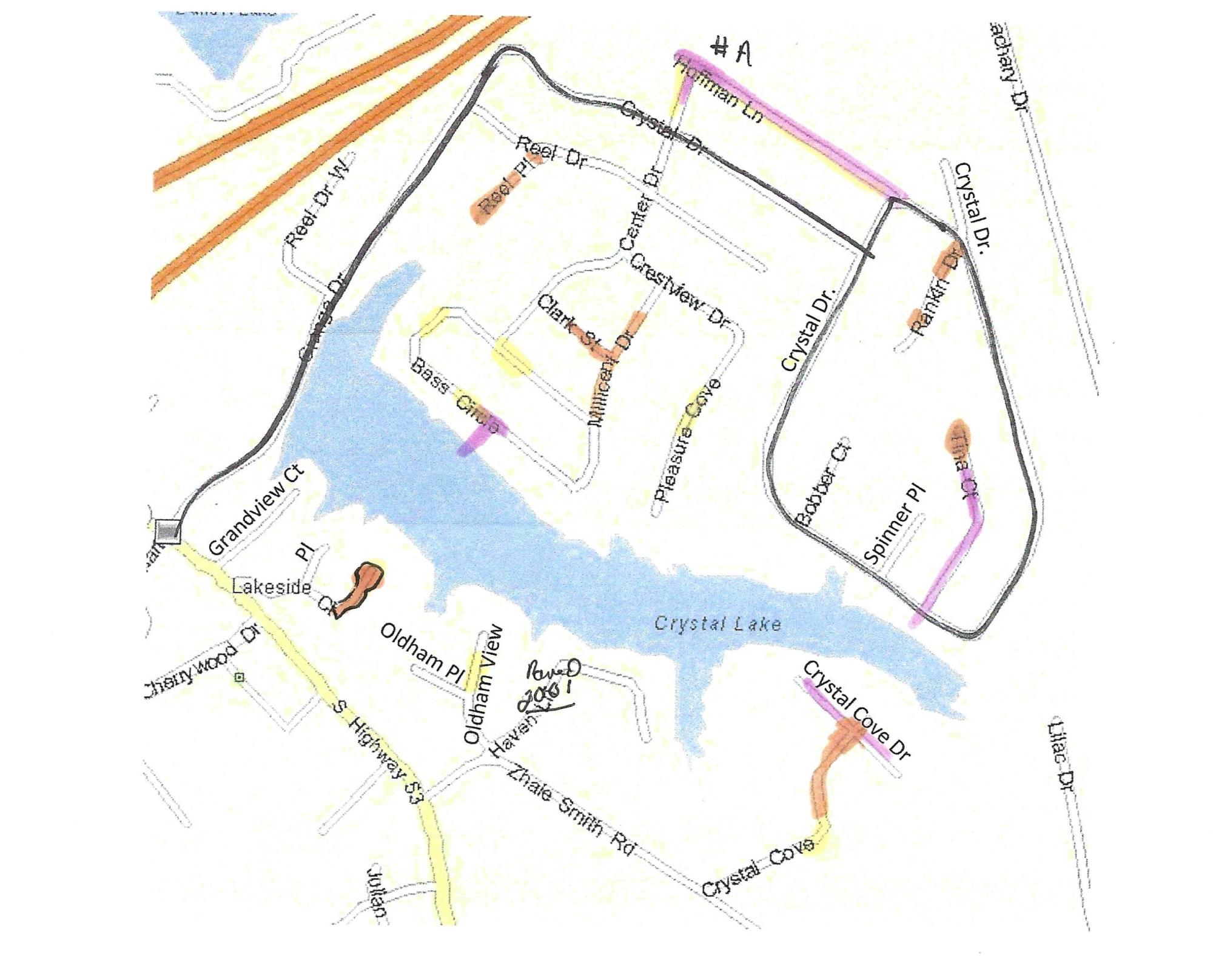 History (approximate):
(Black and Hoffman = County Roads)
2020 Orange with black border
2018 Pink except Hoffman
2017 Orange
2016
2015 Yellow, Misc. patches
2015 Clubhouse parking lot and stripping
2014 Patched Tina, Hoffman, Bass, Clark, Crystal Dr. Grandview, Lakeside Ct.
2013 Misc. patches
2011 Misc. patches
2009 Reel Dr.
2008 Misc patches
2007 Reel Dr. drainage repair
2001 Haven Ln. paved
Project History

(not including Potholes)