In September of 2016, President Connie Oldham requested the "History of the Crystal Lake Club" (CLC) be written for the benefit of the CLC members.
We hope you find it entertaining.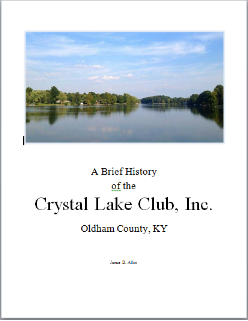 The fine print:
This document is intended to be informational
and in no way may it be used for, or is suitable for, legal use.

It may not be sold.

Downloading the book implies that you agree with these
restrictions.

Due to the high cost of printing color books, the Club
does not intend to print copies at this time. The book is
formatted to be duplex printed (printed on both sides of
paper). eBooks formats are not available at this time.

Comments, additions and corrections are welcome.
(email webmaster@ourcrystallake.org)nd it entertaining.